Pinewood Bordon Hampshire Project Updates
Installation of the modular home foundations
As with any foundation works care needs to be taken applying the correct structural loads to take each modular home. The Pinewood site in Bordon has two complex structural elements, the external homes on an open site as you can see from the photo and an internal structure that's been standing since the mid 1990's.
All too frequently developers are racing for the quickest gain, the biggest profile margin and typically would have bulldozed this site and put ten new faceless units that make the area look bland. Pinewood as a hall had its heyday, it has memories in the building, the boxing club, the zumba class, birthdays and election polling station, but with competition elsewhere and the lack of regular use the hall became uneconomical in its present state.
In the early days of planning a site meeting coincided with the General Election & a local resident walked in expecting to vote oblivious the hall had been closed and not reading their polling card! In a way, there's a story to all of this. The foundations are what people need in life, to get a step up and have the base to achieve, they may also slip up, if foundations aren't there, Pinewood should be seen as that foundation, giving individuals, couples, families that level of stability needed to build upon. This is happening, East Hampshire District Council is enabling this.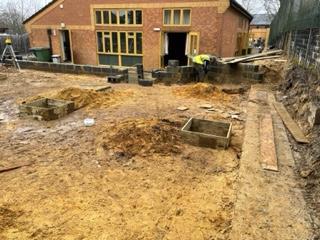 Pinewood Commences

Before starting the internal works we need to ensure the externals are laid out ready to accept three modular homes for couples and families and to prepare the land accordingly.
The work has started, the aim is to 'scrape' the existing surface by approximately 20cm and level off the land. The soil is predominantly compacted sand. With the sand comes a requirement of an extra soak away. This is part of the Government's requirements to prepare for a '1 in 100 year climatic change event'. This means each new home going onto the Pinewood site has a sedum grass roof. The water running from the roof will disperse into a new soak away and then naturally into the soil.
There are walls, steps, and a slope going in and we'll show you in the days ahead.
Meet Pinewood's Site Manager 'Ram'
Ram joined VelocityRDT to head up the site implementation. Ram gained his accredited Site Safety, Site Supervisory and Site Engineering Degree from London University and is responsible for the smooth running of the job.
Ram moved to Bordon in January and relishes the job. Since he started we found out he is rather partial to eating pizza and jam doughnuts! Always smiling and nothing too much trouble Ram brings a positive approach to running the Pinewood implementation.
Scraping Away Soil
As you can see the amount of soil removed has been considerable.
This is necessary in order to install the modular homes correctly and to provide both screening (new fences to be implemented) and retaining walls using 'Gabion Cages' – these are filled with spent stone, rocks, bricks removed from the building and used as the backing to eventually a neat stone wall feature. This is a trick of the trade whereby retaining Gabion walls can use existing spent materials reducing the need of landfill whilst at the same time giving a really smart finish to the exterior.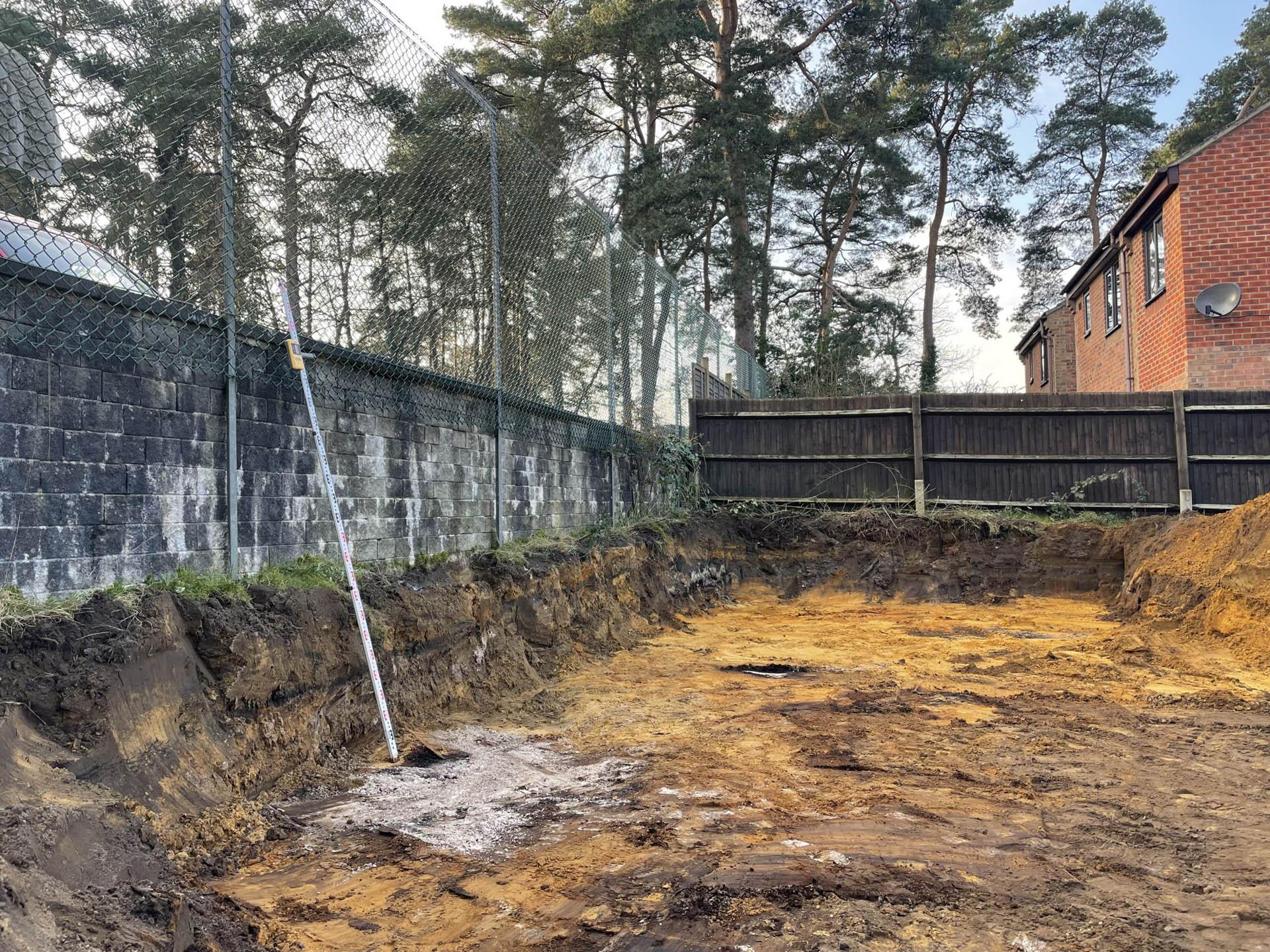 More Removal of Soil
One observation from commencing the implementation is the sheer quantity of soil collected. We are so fortunate to have great neighbours in Rydal Close Bordon who have been more than flexible, supportive and inquisitive. We too have great neighbours at the Post Office and the OneStop shop. We need to as there have been eight lorry loads of soil removed from site. This soil will be processed and probably end up in a garden centre before too long. Removing soil to be utilised sustainably elsewhere.The soil piled so high that had it snowed we'd have installed a ski lift! Luckily it's been removed…sorry to disappoint!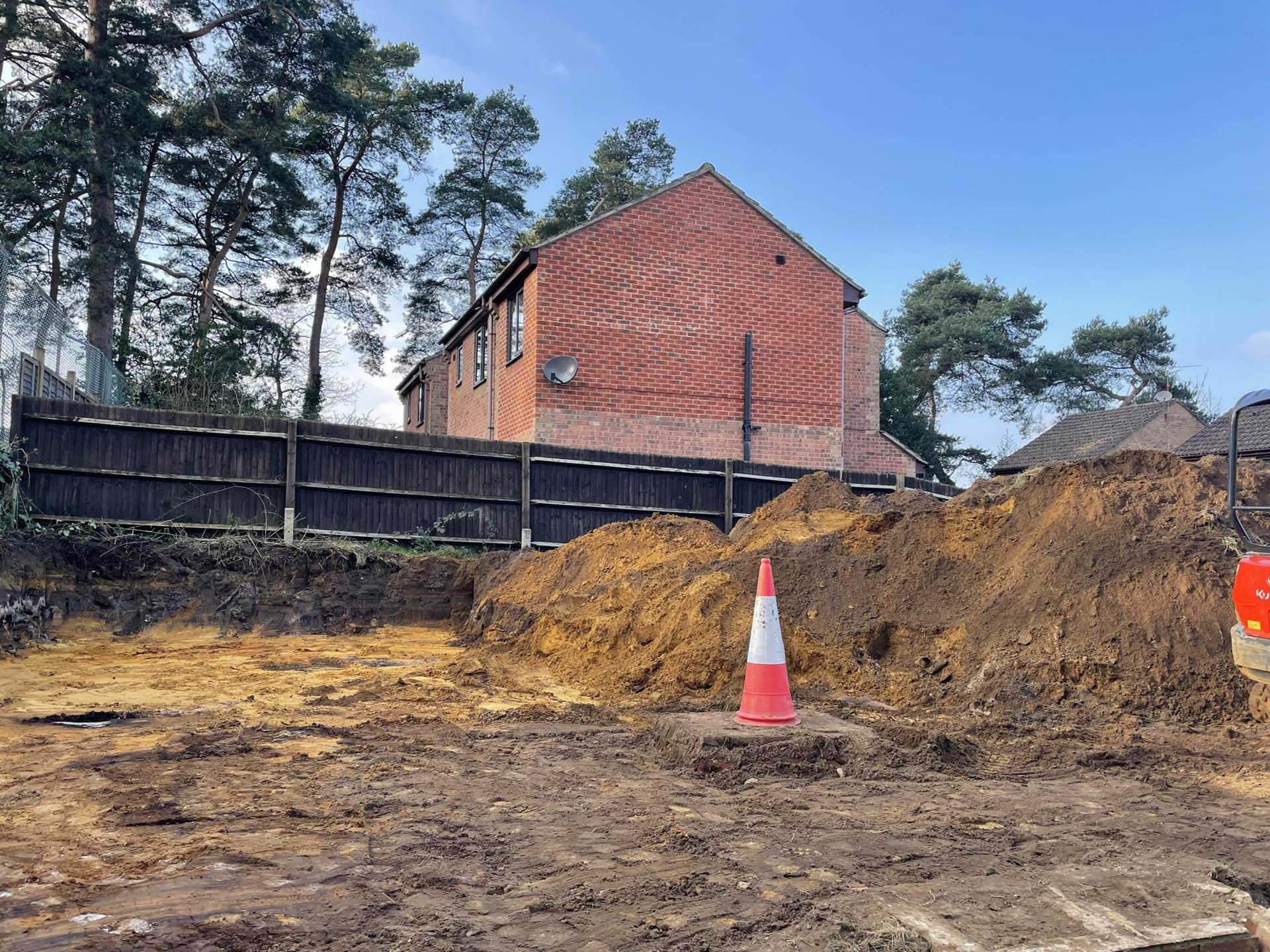 Opportunities for all meet some of the team
Part of our approach to be different is to enable opportunities and individuals to flourish. We are pleased to have given day a release opportunity for James (left) to join us and his college head was delighted we could provide this experience, he flourished, and the day following, Jame's tutor called Ben (centre) to say he was 'absolutely delighted' to be given the opportunity.
We also have benefitted from Aidan (right) joining us. Owing to a highly unfortunate event 24 months earlier Aidan was in a RTA and in hospital for many weeks. Ben has sponsored and encouraged his return to work, nothing too strenuous but proof of how someone can come through a life changing event and out the other end.
Thanks to Ben and his team you are all a credit and once the implementation is complete we shall introduce Aidan and James to the wider teams and work with Ben to provide opportunities for more work and bespoke training.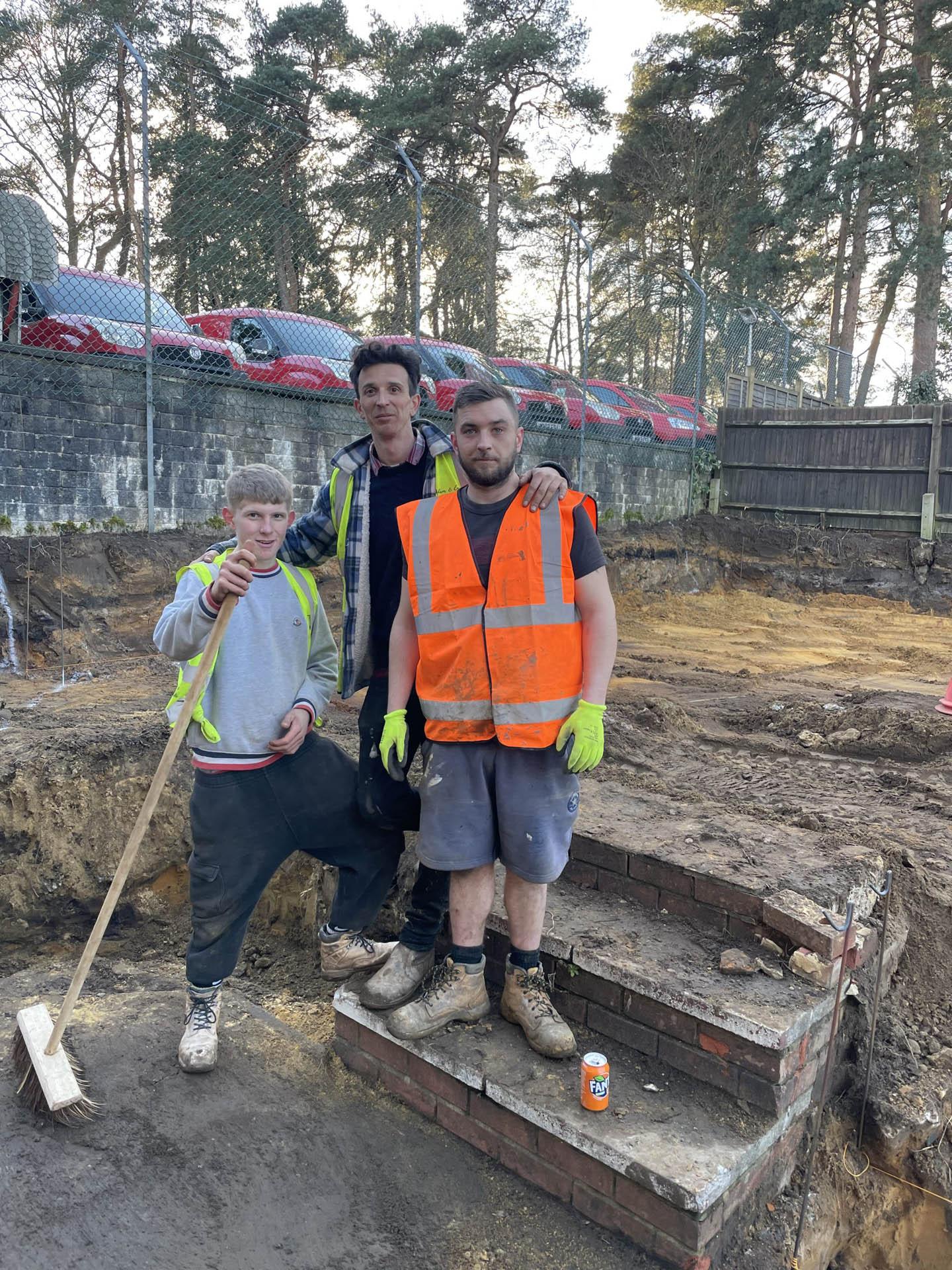 Getting it right the first time
As Pinewoods work develops we had to emphasise the difference between initial retaining walls built in the 1990s and what's needed today. The picture is the foundation course for the walling that's to hold and secure the higher level where the modular houses are to be positioned.
They are concrete blocks. In this day of environmental concerns and tight budget efficiencies there needs to be weighed up of cost, design, practicality, access to materials and durability. Sometimes it's best to stick to what's best, tried and tested and what's going to last and stand the test of time. Funny to think this wall could still be standing in 100 years time…it's certainly built for longevity.